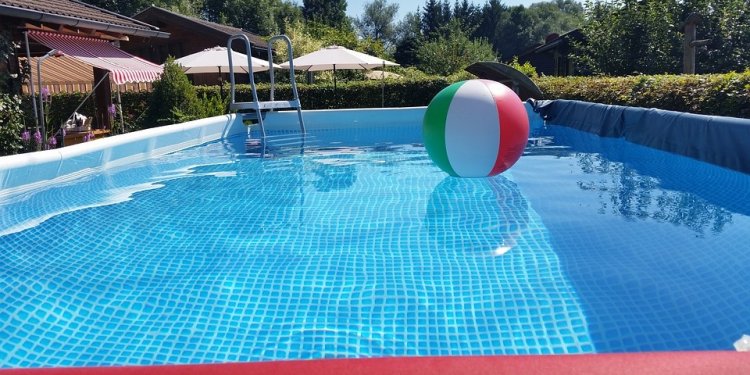 Safety barriers for swimming pools
Rob Cox
by
Pool Safety: Barriers for Swimming Pools
How accessible is your swimming pool? Are your gates self-closing and self-latching? Looks like the gate in the picture to the left is not. This small wood fence shown is also rather climbable, and may not meet code in many jurisdictions.
One of the best Layers of Protection around your pool is a good barrier. Barriers can be a fence, with visibility through the fence to the pool, from the house. Many pool designers will also use walls, shrubbery and deck levels to create barriers to access.
It's important to limit the points of access to a pool - and all points of access should be visible from as many other areas as possible.
A good pool barrier will keep small children (under that age of 5) from gaining access either through, under or over the barrier.
Pool Fences and Wall Barriers:
Should be at least 4 feet in height, with no more than 3" slats in between the uprights.
Fences should be designed so that no footholds exist, where a small foot could get a leg up.
Chain link fences should use normal sized 1-3/4" diamonds or spaces between the wires.
Fences should be no more than 4 inches above the ground, to keep kids and critters out.
Fencing should not obstruct a clear view of the pool, from all areas.
Removable fencing (shown right) must be closed to be effective.
Pool fencing on 3 sides of the pool, with the house being the fourth side, requires that all doors on the back of the house be locked and alarmed. You should also consider adding a pool alarm as a secondary layer of protection.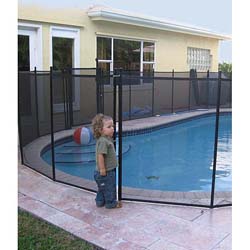 Pool Gates:
Pool Gates should be self-closing and self-latching. Use a 12" spring, or install the Magna-Latch.
Place the latch release high up on the inside of the fence, to prevent small folks from reaching over.

The gap between the fence and gate should be no more than 1/2", to keep small hands from reaching the latch.

Keep chairs, trunks, stumps and anything that can be used to step-up on, away from the pool fence and gate.

Inspect and maintain your gate regularly, and if possible, keep the gate locked, or use a pool gate alarm.
Shrubs & Hedges:
Dense shrubbery can only be an effective barrier when a fence or wall is behind it.
Boxwood, Arborvitae or Ligustrum are fast growing, and good as semi-barrier hedges.
A thick garden of Cactus might also deter some young ones!
Every pool needs a fence, to protect it's owner from unauthorized and unsafe use. Above ground pools, especially portable pools, can be dangerous without proper fencing. Smaller play pools are particularly dangerous, and their soft sides can allow toddlers to "roll" into the pool. Even small drainage and retention ponds can pose a hazard, consider a small wrought iron fence, if there's any chance of small children ever being in the area.
Take some time this week to check your fence and gates this week to maintain the safety of your pool barriers.
Tweet
~~~~~~~~~~
If you would like to Guest Post on our Pool Blog ~ or for permission to repost our Pool Blog on
Share this article
Related Posts