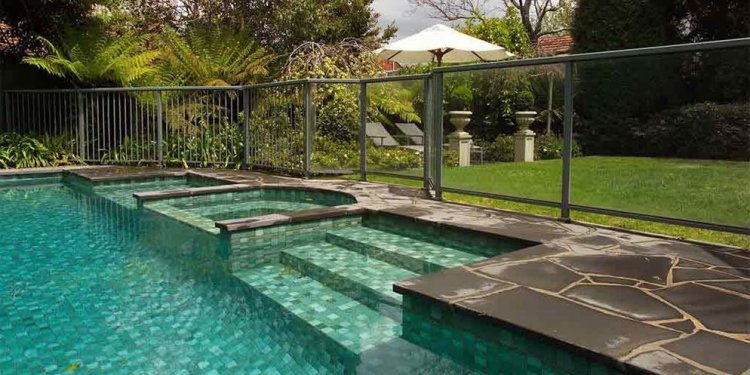 pool fence Glass panels
The average reported cost of glass fencing is $118.27 per linear foot.
The maximum reported cost for glass fencing is $148.64 per linear foot.
The minimum reported cost for glass fencing is $88.50 per linear foot.
Uses of Glass Fencing
The most common utilization of glass fencing is that of pool safety. An increasing number of homeowners have begun to install glass fencing around their pools as a way of keeping neighborhood children and pets from getting in while the area is unsupervised. This precaution reduces the risk of injury or death by drowning in many neighborhoods. Glass makes a great option for pool safety because it is see-through and very difficult to climb, yet still visually appealing.
It is also quite common these days to see homeowners install glass fencing around their gardens. This allows them to enjoy being able to see their beautiful gardens with an unobstructed view while also having the peace of mind in knowing that the glass barrier can keep rodents and other critters from getting into one's garden and potentially destroying plants.
Finally, glass fencing can be used as a way to solidify a property line or boundary, especially in neighborhoods where houses are close together and confusion about property lines may arise as a result.
Advantages and Disadvantages of Glass Fencing
Still, all fencing options come with their own potential advantages and drawbacks, which is why it is important for homeowners to carefully assess and weigh the pros and cons in order to ultimately choose the fencing option that is right for them.
The greatest advantages to using glass fencing on one's property is that of its undeniable aesthetic appeal. Homeowners enjoy the fact that glass fencing allows them to have the convenience of a fence without having their views obstructed in the process. This is especially ideal for those who are looking for pool fencing as glass makes it easy for adults to keep an eye on swimming children. Furthermore, unlike chain link and other materials of fencing, glass will not rust and is not adversely affected by moisture.
Glass is also extremely durable, especially when thicker panes of glass are used. This means less time and money spent on maintenance by homeowners down the road. There is no need for glass to be treated, and there is certainly no need to stain or paint regularly, as would be the case with wooden fencing.
Glass fencing does not come without its drawbacks, either. Specifically, many homeowners complain about the high cost of glass fencing. It is easily the most expensive type of fencing per square foot among chain link, aluminum and wood fencing. Therefore, it may be out of the comfortable price ranges of some homeowners.
Unfortunately, glass fencing can also be more easily prone to scratching than other types. Glass is durable and resistant to breaking, and its biggest weakness is that of being prone scratches. This can become a potential problem for pet owners who let their animals outside as the pet scratching at the fence can certainly take away from its aesthetic appeal over time.
Finally, glass does not offer much privacy at all. For those who are looking for more privacy, a wooden privacy fence may be a better option.
Cost Considerations
Homeowners who are trying to figure out how much a glass fence would cost them should start by taking a few factors into consideration. Some questions for homeowners to ask themselves should include:
How much linear footage of glass fencing will be needed?
Is the property that needs to be fenced very hilly or sloped?
How high of a glass fence is desired?
Knowing the answers to these questions and being able to articulate them to a fencing company ahead of time can save homeowners a lot of hassle and time down the road. Knowing how much linear footage of glass fencing is needed is as easy as measuring around the perimeter of the area to be fenced in. This can be done using a tape measure or even estimated by counting steps. Fencing companies can then use this number to come up with an estimate for the cost.
When receiving a pricing estimate for glass fencing, however, homeowners should also keep in mind that not all companies include installation as part of the estimated price. In such cases, homeowners should expect to spend an additional $800 to $2, 600 on installation and labor costs alone. This can make a significant difference in the total cost of the finished project.
Other factors that can affect the overall cost of the fence include the evenness of the ground where the fencing needs to be installed and the desired height of the fence. The more hills and slopes on the land, the more labor and materials will need to be used to construct the fence and thus the more expensive the project will be. Furthermore, the higher the fence, the more materials will need to be used.
Homeowners can secure the lowest possible price on their glass fencing by receiving and comparing various estimates from area fencing companies and taking the time to read reviews on fencing companies as well.
Overall, glass fencing can be a great option for a variety of situations. Those considering this for their own properties should get started by contacting a professional today for more information or to request an estimate.
india covid deaths
india under 18 population
india spice house
india afghanistan
india flavors
india up covid cases
india off road cars
india through maps
india gdp per capita
india first nuclear test
india arie songs
india economy
india without partition
india for everyone
india next top model season 4
india in ww2
india vs new zealand t20 2021
india visa
india india
even india bellen
india india
india after independence
india from the vow
india about in english
india lockdown until may 31
india cases rise despite lockdown
india vaccine
india of my dreams
india location
within india courier
india versus england live
india between 1947 to 1950
india nxivm
india like national flag
india through the ages
india visa from usa
within india parcel
india kager
india vaccination rate
india china
opposite of india in earth
india to usa flights
india bazaar
india out of oxygen
india like flag country
india against corruption
india house santa fe
within india meaning
india pro league
india into aed
india against china
india after gandhi pdf
india holidays
india behind new zealand withdrawal
india past president
distance in india between cities
india women
india before 1947
why kashmiris are against india
india us travel
india travel ban
india e visa
india k raja
india on cryptocurrency
india versus england match
india jewelry online
india lockdown until july
india since independence
india around country
india up covid cases
india outside chance
india quarantine rules from usa
india by language
india outside chance
except india
india out of tournament
india up population
india without partition
india towards cashless economy ppt
india up rashtrapati
india love age
india before partition
india borders closed until
india through my eyes
india under 19 captain list
indiana jones
india royale kids
india to usa flights
india covid
india inside travel
passage thru india bukit damansara
india out of world cup
india for u
india time
india etf
india top of
india next top model season 6
india lil durk
Share this article
Related Posts