how to install Pool safety fence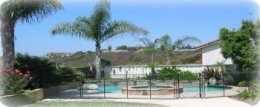 When my kids were young-er, I installed removable pool fencing, to keep the backyard safe for them, and give my wife and I some peace of mind.
I installed it myself, with help from my neighbor. Once our tools and equipment were assembled, the job only took about 3 hours.
Here's the information you need to know to plan and install your own removable pool safety fence, DIY Style!
Planning your Pool Fence
The safest pool fence is a complete surround, and what most people do is follow the shape of the deck surrounding the inground pool.
However, depending on how your patio and pool are laid out, you may not need to completely surround the pool. For narrow backyards, you can "split the yard", and run a secondary fence across the yard, from side fence to side fence. Here's an example.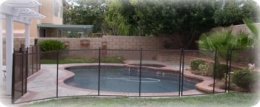 In other cases, you can use two sides of the property fence, to connect to two new sides created with our removable pool safety fence.Straight or Curved? A straight pool fence is easier and cheaper to install than one that curves in and out, or follows the shape of the pool. Corners are usually a 45 degree wedge, 90 degree corners or less are discouraged.
To reduce fence cost, you may want to sacrifice some internal deck space, but be sure to have enough space to be able to walk around the entire pool, and a place for seating or lounging.
Be careful that your fence line is not near raised walls, planter beds, trees, stumps or that old jalopy parked out back ~ anything that could be used by a child to climb over the fence.
When you have a plan, lay rope or use chalk to mark the outline of the safety fence. If you buy the optional swinging gate, decide where this will be located. Draw a Layout on paper – it's a good idea for visualization and also for review, on installation day.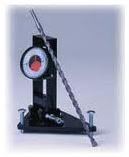 Measure! Once you have your fence plan formalized, it's time to carefully measure the total length of your pool safety fence. Our pool fence sections are each 10 feet long. Determine how many sections you will need with careful measurements.
10 ft long pool fence sections can be trimmed to fit any partial measurement. When installed, there will be a gap between lengths of approximately 1 inch. The optional pool fence Swing Gate shown left, is 36″ wide.

Rotary hammer drill, with 5/8″ x 18″ SDS masonry bit
Drill Guide to hold the drill at a precise drilling angle
Extension cord to reach around the pool
Garden hose to wash away drilling dust
Medium sized hammer
Measuring tape
Chalk Line
DIY Pool Safety Fence Installation
Snap a chalk line along a carefully measured fence line. After the deck is marked, measure to be sure you have enough pool fence.
Determine your starting point, then lay down the included template to mark the first 4 holes to be drilled.
Drill the holes at the proper angle (see below), and clean out the concrete dust with water or a wet/dry vacuum.
Pound the post sleeves into the holes that were drilled.
Install fence section posts into sleeves, and continue to the next fence section.
Share this article
Related Posts