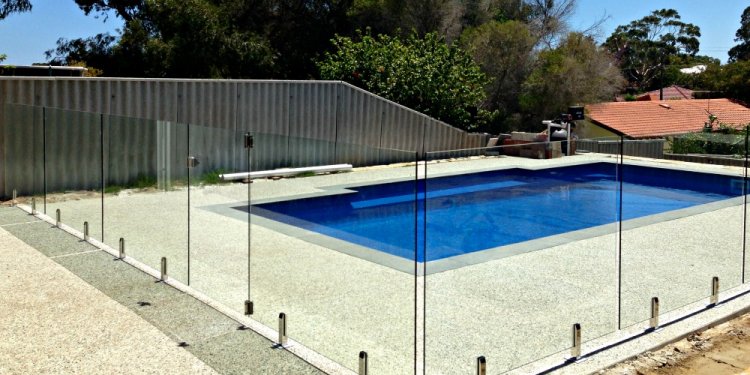 Glass pool Fencing Cost
Minimum cost: $300 per liner foot
Maximum cost: $550 per liner foot
Materials
When it comes to having a frameless glass pool fence installed, there are a lot of different materials to consider. The most important material is the glass itself. Depending on the look that a homeowner is going for, there are several different lengths of glass panels from which to choose.
As a general rule, most glass panels range from 600 to 2, 000 millimeters in length.
Most contractors will not work with glass panels that are more than 2, 000 millimeters in length because the glass is more likely to bend and break.
As a standard, frameless glass pool fencing is generally made using 12-millimeter-thick glass.
It is not unheard of to see glass that is 8 or 10 millimeters thick. The thicker the glass, the stronger it is, but it also costs more.
The glass panels each have beveled edges to keep them from being sharp.
The two other materials that are used to create a frameless glass fence are the gates and fixtures. The fixtures attach to concrete in the ground, and the glass panels securely fit into them. The fixtures have to be strong and resist corrosion since they will be near water. Most frameless glass fences come with gates that are 1, 200 millimeters high and 834 millimeters wide.
Pros and Cons
Just like any other type of fencing, frameless glass fencing has its advantages and disadvantages. Below is a breakdown of the strengths and weaknesses of this style of fencing:
Pros:
Frameless glass fencing does not obstruct a homeowner's view and is more aesthetically pleasing to the eye.
It works well with any style or theme already present around the pool.
Glass fences are extremely durable and hold up better to weather than wood.
Unlike metal fences, glass fences are resistant to chemical corrosion. This is good considering the glass will be subjected to the chemicals found in pools, such as chlorine.
Fences keep animals and kids from running around the pool or accidentally falling in.
Cons:
Frameless glass fencing is extremely expensive compared to the price of other fencing options.
This type of fence is hard to maintain. Just like any other large piece of glass, it needs to be cleaned regularly. When it is not clean, the dirt is clearly visible from both sides of the fence.
Frameless glass fencing provides no privacy. If the homeowner does not have another fence up around his yard, then everyone will have a clear view of the pool and its occupants.
Animals have a hard time seeing glass fences, so there is a learning curve while the animal gets used to having to move around the fence.
Factors that Affect Cost
Just like any other type of home improvement project, there are many factors that affect the cost of this project. For example, the thicker the glass is, the higher the cost of materials will be.
Another consideration that affects the cost of this kind of project is how many gates the homeowner wants to install. The gates require special materials, so adding more gates equals a higher price.
The price of labor will be another big factor that affects the cost of installing a frameless glass fence. Contractors who are licensed and insured are going to cost more than contractors who are not. An independent contractor may charge as little as $50, but their work is not insured.
If the glass fence comes with a warranty, this too may change the amount the entire project will cost. Homeowners should make sure that the contractor's workmanship is guaranteed and that their quote includes all the materials needed.
Different Uses
Frameless glass fences have a lot of different uses. In general, homeowners use glass fences when they want to put a fence around something to keep out small children and animals without blocking the view of the area they are protecting. Glass fences are able to do this, which is why they are popular as a type of pool fence. A few other uses for which people use frameless glass fences include:
To protect a flower garden from animals
As railing around an open deck or patio
As a fence around the front of a property to keep animals out of the front of homeowners' yards without blocking the view of their homes
blogging with google
blogging with medium
blogging without a niche
blogging without investment
blogging without writing
blogging without showing your face
blogging without domain
blogging without website
blogging without wordpress
blogging
blogging apps
blogging as a side hustle
blogging anonymously
blogging as a career
blogging and making money
blogging as a business
blogging apps that pay
blogging about mental health
blogging business
blogging boys
blogging best practices
blogging business ideas
blogging books
blogging basics
blogging bishop
blogging business plan
vlogging camera
blogging courses
blogging classes
blogging courses for beginners
blogging conferences 2021
blogging conferences 2022
blogging coach
vlogging camera with flip screen
blogging definition
blogging dirty
blogging dog center
blogging def
blogging definition and example
blogging define
blogging dallas cowboys
blogging degree
blogging examples
blogging equipment
blogging etiquette
blogging essentials
blogging events
Share this article
Related Posts