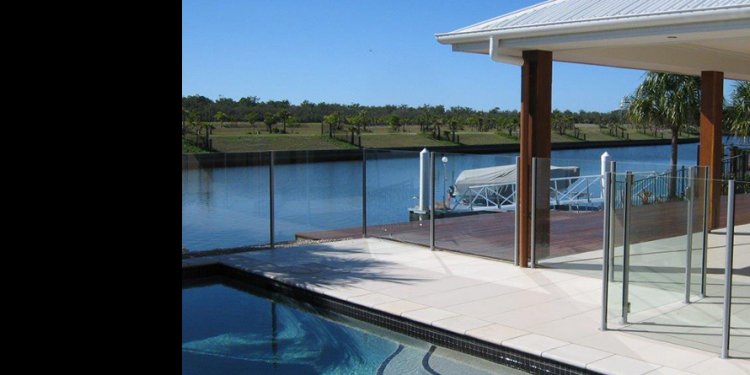 Glass pool fence supplies
There are countless reasons to put extra attention on the safety of our children around large bodies of water. Taking appropriate precautions in putting barriers up around the swimming pool can prevent accidents from happening. There are many options available for those looking to install a pool fence. Glass pool fencing is one recent innovation that is gaining popularity for its appearance, and enhanced safety benefits.
When comparing fencing materials, the major advantage of glass is its nearly invisible appearance. Though solid barred and mesh pool fences provide a safety barrier, they make it difficult to view what's happening in and around the pool area. Glass pool fences provide a clear view of all backyard activities and allow unobstructed views of your landscape. Given the clear view to watch the kids swimming in the pool will help parents breathe a little easier. In terms of aesthetics, glass opens up your space and gives a modern, elegant look to your outdoor living area.
Having a pool fence made of durable materials is essential. Fluctuating temperatures, heavy rains, and wind can make some fences deteriorate over time. Glass pool fences made with stainless steel and thick tempered safety glass are built to stand strong over the years, with no maintenance required. A simple wipe down with mild soapy water every few months is all it takes to restore glass fencing to crystal clarity. Glass pool fences built to the proper dimensions of 4 to 5 feet create a tall, climb-resistant surface that makes it impossible for children to adventure into the wrong places. Combined with a pool gate that automatically closes and latches, a glass fence is the best way to ensure safety in and around the pool area.
Take the time to find a knowledgeable licensed installer to ensure your pool fence is built to code and professionally constructed. Another important consideration is the layout and location of the fence. Versatile in nature, glass fences can be custom cut to fit any layout and mounted to wood, tile, concrete, or dirt. When installing a pool fence, child safety is the top priority. Glass pool fences offer parents peace of mind with a secure, durable, and attractive safety solution. Owning a pool should be a stress-free experience. With a pool safety fence, parents can spend less time worrying and more time enjoying their outdoor oasis with their little ones.
Share this article
Related Posts