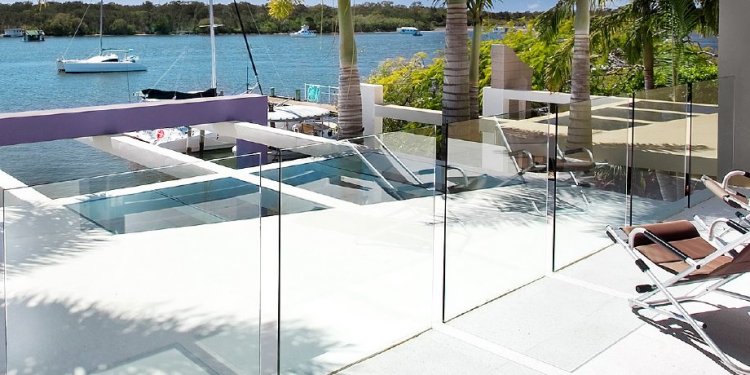 Frameless Glass pool Fencing Brisbane
Southeast Queensland Glass semi-frameless glass pool fencing
Semi-frameless glass pool fencing has become a popular pool fencing material of choice for homeowners in Brisbane and many parts of Australia, where stringent swimming pool safety laws are strictly observed. The versatility and elegance of glass makes it much coveted because while it allows you to faithfully comply with government standards in pool fencing, a glass fence does not diminish the appeal of your pool or affect the architectural design of your house.
Glass pool fencing prices, as expected, would be much higher compared to other more common fencing materials including wire, aluminium, and iron. It is still a good investment to make especially if you consider that glass pool fencing is low-maintenance, extremely durable, and adds to the attractiveness of your house. If you would like to save up some on a glass pool fence, your best bet is to go for a semi-frameless glass pool fencing design. We service glass pool fencing in Brisbane, gold coast and south east qld as well as supplying materials Australia wide
Make your pool area look fantastic minus extremely huge expenses with South east queensland Glass. We bring you cost-effective glass solutions with semi-frameless glass fencing designed specifically for your pool. Semi-frameless glass pool fences are easier and much quicker to set up than frameless ones. Our contractors will set up the posts made of powder-coated aluminium, which will support the glass panels. We can set your semi-frameless glass fence on a timber or concrete deck.
Our glass panels are made from toughened glass licensed under Australian manufacturing standards . We have them in varying thickness: 8mm, 10mm, and 12mm respectively. We offer professional consultations to help you decide on the ideal fence design to meet your specific needs and budget. Our experienced contractors will themselves build the fence within an agreed time frame. All work by our contractors comes with a comprehensive workmanship guarantee. We assure you that every fence we build complies with all pool safety standards.
Share this article
Related Posts