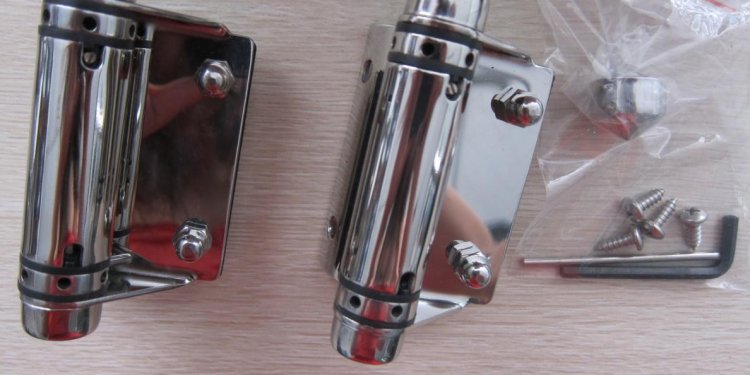 Cheap Glass pool Fencing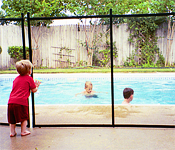 US Pool Fencing Regulations
The United States does not have any federal laws that govern pool fences. States like Florida and Arizona, however, have developed their own fencing laws. In Arizona, for example, homeowners must enclose any contained body of water with a depth of 18 inches or a width of more than eight feet with adequate fencing.
While you might not be legally obligated to install a pool fence, the International Code Council's safety standards recommend that you do. According to these standards, the fence should be at least 48 inches high and set up in a way that children cannot climb it. It should also have pickets spaced less than four inches apart, be self-latching, and open away from the water. No matter where you live, these safety standards should be followed because they could help save a child's life.
Types of Fences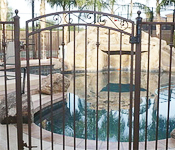 Once you decide to install a fence around your pool, you can begin looking at the various styles that are available. Each of style has its own unique features, depending on the aesthetics that you wish to create and your budget.
Mesh Pool Fences: The most cost effective form of fencing are removable mesh panels. Mesh fences are climb-resistant, so you will not have to worry about a child scaling over and into the water. They are also removable and transparent. This ensures that your fence will not permanently change the look of your yard. Removable pool fences are perfect for those who do not want to commit to a permanent fence, but want the added safety that a temporary fence provides.
Wrought Iron Fences: One of the most costly pool fencing materials is wrought iron, which is like the iron fences that you would see encasing the front yard of a home. These fences are welded and dipped - very sturdy, so you will not have to worry about them breaking down for a long time. They also come in a variety of different styles. Keep in mind that iron does rust, so you will have to perform some regular painting to protect an iron pool fence.
Aluminum Pool Fences:
Another sturdy, but less expensive, option involves using aluminum slats or tubes, horizontal or vertical.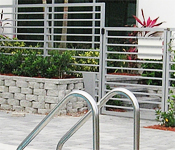 Aluminum fences tend to look just like wrought iron, expect for they are much lighter and will not rust. In some environments, such as near the sea shore, you will need to perform regular maintenance to prevent corrosion. Most aluminum pool fencing is powder coated which is quite durable, but hot sun and salty weather can rough it up a bit over a few years' time.
Wood Pool Fence: The main problem with wood fencing is that it can warp and deteriorate when it gets wet. This is bad news if your fence is close to your swimming pool. In addition, you cannot see through the wood like you can with other materials. This makes it difficult to keep an eye on your pool, unless you are inside of the fence. If you want added privacy for your pool area, this could be a viable option.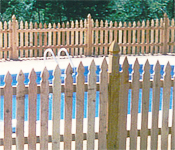 You must, however, be willing to treat the wood regularly with stains and waterproofing to prevent it from rotting, and adjustments to sgging gates to account for warping.
Glass Pool Fencing: Certainly one of the most attractive pool fencing options, and not necessarily the most expensive, when compared to premium woods, and deluxe aluminum pool fencing. Glass pool fencing is a thick safety glass; virtually non-breakable and shatter resistant. It installs easily by hanging the glass fence panels between the upright posts. Used extensively in Australia as internal pool barriers, it makes an excellent secondary safety fencing for inground pools.
Vinyl Pool Fencing: Easy to install and weather resistant, vinyl pool fencing comes in many patterns and styles, from traditional picket fences to large textured fence panels. They can be ordered in many colors as well, not just white. Vinyl pool fences wear well in most parts of the country, but can deteriorate in hot desert sun, and begin to crack over time. They also block the view of the pool more than some other fence types.
Above Ground Pool Fencing: Despite above ground pools being more difficult for a child to enter installing a fence is advisable. Resin fences are easy to install and provide a strong barrier in your yard. They bolt onto each pool upright and connect to each other. If you go this route, consider buying the taller fence to make the pool even more difficult to enter. And be sure to never leave any items near the pool, which could be used as a step by a child or animal to climb over pool walls or fences.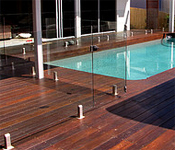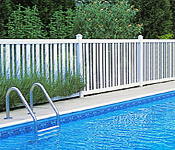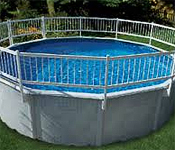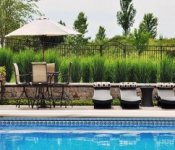 Share this article
Related Posts