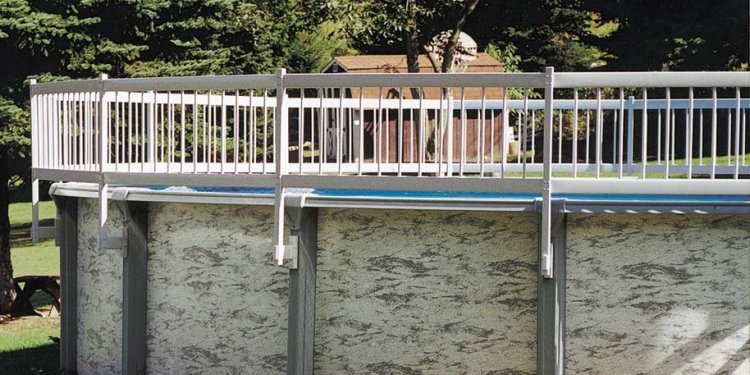 Above Ground Pool safety fence
After searching the old inter web for a pvc fence, found several for over $900 for a 27' pool. Came accross this and could not believe the price. Even went down to the local pool store and he could not touch the prices here, in fact the owner installs pools and for people looking to put up a fence around the top, he suggests ordering from here to his cuatomers! The code enforcer was extremely happy with the quality and look of the fence. Passed final inspection with no problems. Going to order a gate kit to be able to get to the strainer on outside of pool from inside. Instructions say to have bottom rail 4" off top top rail of pool, very hard to get your arm to outside to do anything from inside pool. Very strong and durable. Fence has seen some 60 to 70 mph winds and never harmed it whats so ever. Very happy with this purchase.
Nice looking but may not meet your towns code Review by
Purchased 2 - 8 sections fence and one gate section for my 24x18 pool. Instructions are terrible and could not find a Utube video but once the parts are out of the box it's not too complex to figure out. After approx. 4 hrs to complete the finished fence looks great. My towns (in central NJ) code enforcer did not approve it for pool code though - the gate is not self latching so I'll have to rig it with some parts from box store to hopefully pass code.
Great Fence, Even Better Price Review by
We bought a new house and our insurance company told us we needed to install a fence around the above ground pool or they would drop us. After searching frantically on the internet and seeing prices jump over the $800 mark I thankfully came across this website and couldn't believe how much cheaper they were! I called to double check what exact kits I needed and the customer service department was so friendly and caring. I ordered what I needed and they actually gave me free shipping. I got all three boxes of what I needed in 4 days, and all for under $350.00!
It was VERY easy to install, but I do suggest going on YouTube and watching the installation videos because they were more helpful than the instructions they provide for you. You really only need a drill, tape measure and a saw to put it up. It took me and my wife one Saturday afternoon.
We sent pictures to the insurance company and they loved it. Thanks again for helping us out on such short notice! I would STRONGLY recommend to anyone!
The Dreistadt Family
New York
Perfect Look and Fit Review by
This was easy to assemble and install for area of the pool not surrounded by my deck. The fence has weather 70+ MPH winds with no issue either. Like the previous reviewer, the inspectors loved the fence and couldn't believe the price. He took a copy of the catalog to show others what to put up.
Share this article
Related Posts