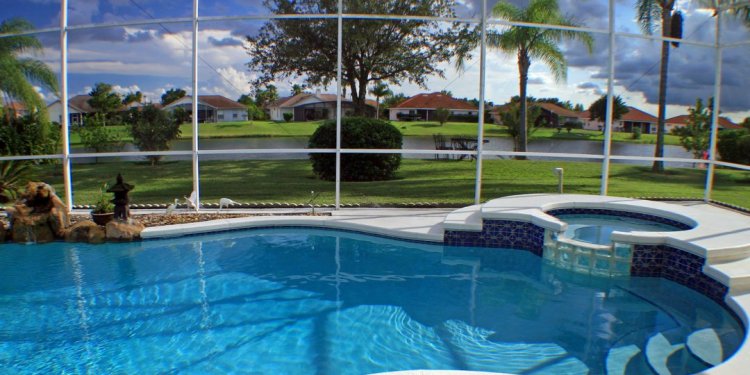 Above-Ground pool regulations
The construction of any kind of swimming pool requires permits and planning, but there are also several rules and regulations that must be followed during construction. Above-ground pools are no exception and, much like in-ground pools, several more regulations must be adhered to even after the pool is completed.
Choosing your pool's location is a major decision that must be made before the first step is taken in construction. In most cases, the rules for above- and in-ground pools are identical. According to regulations in the city of Roswell, Georgia, pools cannot be located in front yards and are strictly relegated to side yards and backyards. When constructing the pool, it must be located 10 feet away from any property line.
Once the location is decided, the company or person constructing the pool must obtain a permit for construction from the city, according to Roswell government. Backyard City Pools states that this permit should be displayed before and during construction. Above-ground pools also require wiring for a pump, which should be taken care of by a professional during the installation or construction of the pool.
One major difference in the requirements between above-ground and in-ground pools is what constitutes an appropriate barrier or fence for the pool. According to Ronald Piester, Director of the New York State Department of State, all swimming pools require a barrier (such as a fence) that completely surrounds the pool so as to obstruct access to it. In the case of an above-ground pool, Piester indicates that the barrier can be either a fence surrounding the pool or it can be mounted at the top of the pool. In either case, the barrier must be at least 4 feet high and, if mounted at the top of the pool, there must be no more than 4 inches between the top of the pool and the bottom of the barrier. If the above-ground pool does not have a barrier mounted at the top, then the ladder access to the pool should be removed, locked or secured so as to prevent access to the pool.
All pools must also contain entrapment or suction outlets that produce circulation in the pool. This helps keep water clean. These pump systems must have covers that conform to standard suction fittings, a properly sized drain gate (usually 12 by 12 inches) or an approved channel drain system.
dragon age keep
dragon bases
dragon hunting
dragon cake
game of thrones dragon names
dragon wallpaper
dragon game
dragon ball fuse
black bearded dragon
dragon ball fusion generator
ancient gold dragon 5e
copper dragon 5e
alaskan snow dragon
red dragon hannibal
leafy sea dragon
dragon outline
dragon ball tattoo
dragon armor
new dragon ball super
dragon coloring pages
dragon quest ix
dragon fruit starbucks drink
monkey d dragon bounty
frilled dragon
golden dragon
red bull dragon fruit
anime dragon
red dragon mouse
tuk tuk raya and the last dragon
bulma dragon ball
white dragon 5e
crystal dragon
dragon phoenix
dragon star
bad dragon reddit
dragon inn
bearded dragon cage
how to train a dragon
maleficent dragon
back of the dragon
dragon ball z budokai tenkaichi 3
dragon quest xi
goldspan dragon
dragon ball super viz
brutal black dragon osrs
tail of the dragon tennessee
last dragon
dragon costumes
all dragon ball series
dragon gate
dragon skull
dragon tattoo
dragon soul entrance
dragon back tattoo
dragon quest 11 walkthrough
dragon ball super heroes
george and the dragon
cell dragon ball
golden dragon chinese food
dragon ball z game
raya and the last dragon ethnicity
dragon nest
young red dragon 5e
dragon avatar
dragon crisis
raya and the last dragon disney plus
dragon shrek
canton dragon
bad dragon toys
bearded dragon cage
tuk tuk raya and the last dragon
maleficent dragon
dragon slayer
disney dragon movie
dragon ball z drawings
wish dragon
dragon meaning
ice dragon
spyro year of the dragon
anime dragon
raya and the last dragon sisu
how to train your dragon: the hidden world
dragon tattoos for women
dragon ball toys
dragon fable
dragon ball z
dragon adventures wiki
golden dragon chinese food
fire emblem: shadow dragon and the blade of light
chinese water dragon
yakuza: like a dragon review
dragon gif
dragon fruit cactus
flying dragon lizard
merrill dragon age
moro dragon ball
how to train your dragon: the hidden world cast
bearded dragon habitat
china dragon
dragon chicken
dragon slayer movie
dragon ball
komodo dragon teeth
dragon coloring page
dragon cartoon
dragon quest x
d&d dragon
the mummy tomb of the dragon emperor
dragon ball z action figures
raya and the last dragon toys
dragon age inquisition
dragon ball z super saiyan
the girl with the dragon tattoo movie
shadow dragon
dragon tf
frieza dragon ball z
petes dragon
dragon city
raya and the last dragon virana
dragon ball z card
yakuza like a dragon
osrs dragon defender
dragon ball wiki
dragon game
dragon fursuit
raya and the last dragon full movie
dragon blood jasper
sisu raya and the last dragon
krayt dragon pearl
dragon ball super manga viz
sea dragon rocket
dragon house
komodo dragon baby
winged dragon of ra
dragon king
dragon type
the girl with the dragon tattoo movie
dragon names
black dragon fish
wargame red dragon
bearded dragon size
dragon roll
bearded dragon terrarium
dragon zodiac
dragon ball episodes
blue eyes white dragon
ender dragon minecraft
toothless how to train your dragon
sea dragon rocket
lucoa dragon form
angry dragon
trunks dragon ball
dragon ball super episode list
dragon ball super manga viz
dragon ball z hoodie
dragon ball z: resurrection 'f'
red dragon japanese maple
raya and the last dragon toys
dragon demon soul
magician dragon
dragon ball z: broly – the legendary super saiyan
dragon balls
house of the dragon release date
petes dragon
dragon quest
lucky dragon
waterdeep dragon heist
dragon skeleton
Share this article
Related Posts